Executing At Pace
---
Sophie Zgraja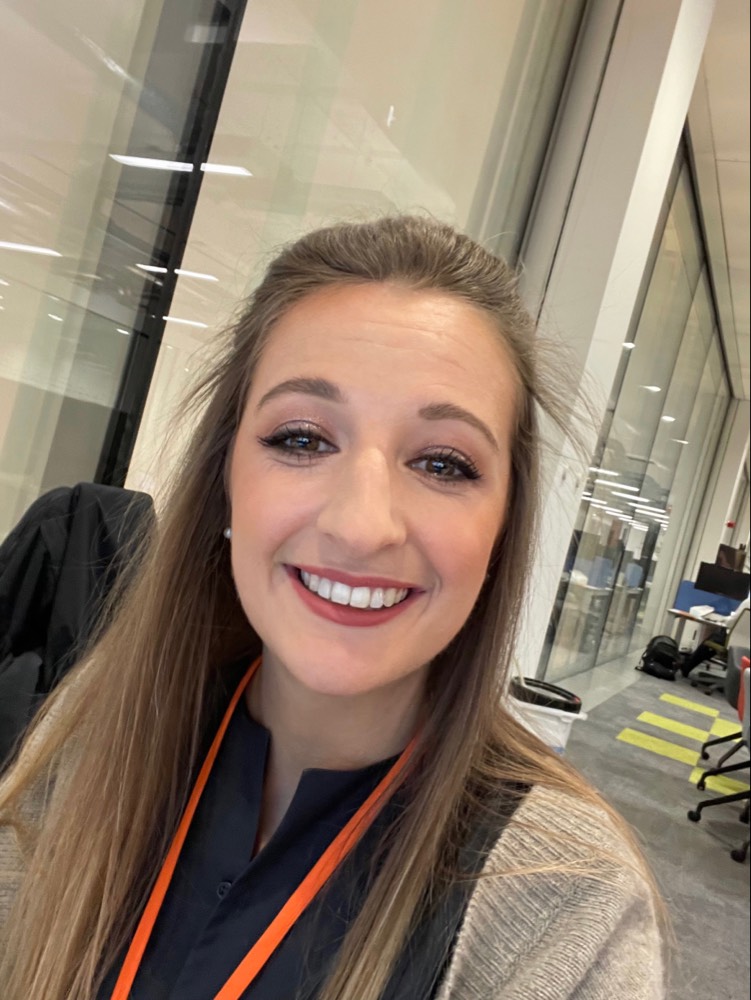 Sophie Zgraja
---
Joined in: 2021
Job title: Corporate Development Associate
Sophie Zgjara was recently announced as the Advanced Values Award Winner for Executing At Pace; within her workplace. She's a determined individual with an outstanding work ethic, ready to go above and beyond to work alongside her team, to get deals across the dotted line. When she was approached by a recruiter to come and join Advanced, she made sure not to pass up the opportunity and has continued to thrive in her role as Corporate Development Associate, since joining in May 2021.
How did you hear about the role at Advanced?
I was approached by a recruiter with the opportunity, and yeah it seemed like a really good oppertunity, and the Advanced values seemed great.
What was most appealing to me was the internal opportunities; the fact that Advanced really encourages internal promotion. It didn't seem like the type of company where the standard thing is that you join, you do your two years, and then you leave.
It really seemed like they're interested in you joining and then, they want to attain you and develop you and offer internal opportunities, doing different stuff if you want it. Advanced seem genuinely interested in your personal development and your career development, and I think that is quite rare actually.
What is the biggest career decision you've made?
I think making the move to Advanced was probably my biggest career decision because I think I was very fortunate to get into the industry that I was in.
The opportunity kind of presented itself at Equinity, and I was thrown in at the deep end and just sort of had to work it out. So, I wouldn't say that that was my decision, that was something that I was just sort of thrown into and kind of found me.
But my decision that I'd done off my own back for my personal development was to move to Advanced, and I think to make that move and that step forward.
Going from something that seemed quite comfortable and quite stable to then do something that would provide more of a challenge would help me reach my aim to try and progress my career and to move forward.
So, to actually move out of my comfort zone into this role in Advanced was probably the biggest decision I've made.
What would you say makes a career at Advanced unique?
I think going back to what I said earlier, the fact that there's a huge focus towards personal development and internal mobility. That there seems to be across the board a genuine sense of care towards people progressing, well I felt that anyway.
How do you keep on developing and improving within your role?
Well, I think my role is very good in itself for that because it's all project-based, and every single different project; when I say project, I mean transaction, is completely different.
So, there's always something to learn and even my manager and the rest of my team who have been in the industry for far longer than I have, always say that every project is different, and you can always learn something. So, I think it's just in the nature of the role that you're constantly learning.
I've also been offered mentoring to learn more about the products, and I think just there being lots of different elements to my role, so we do, some parts of the role about financial modelling and then others are more strategy based.
Sometimes we put together strategic rational and investment case slides, so it's really diverse, and yeah like I said [when working with] different transactions there's always something new to learn.
It can be intense, but it's good.
What's the best piece of advice you've ever been given?
I think probably more personal pieces of advice, so things like trying to reflect more and previously I had a tendancy to take things too personally, both good and bad. So yeah, I think the best piece of advice that I've had is to understand that how you react to a situation is personal.
If you can look at especially work things more objectively, not take it personally, and use it in a personal way to improve or to move forwards then I think that is probably the best piece of advice that I've had, otherwise I'd be too emotional in the role if that makes sense.
What do you find most rewarding about your role at Advanced?
Oh, getting a deal done. Because in my role you spend so much time and there are so many deals that you work loads and loads of hours on and then they don't happen, so spending months working towards a deal and then it actually going through is incredibly rewarding.
What advice would you give to anyone looking to start their career journey?
So, I would say, for people starting out, just [go and get that] experience. Even if it's not the role that you think you want to do, just go and do it, and discover that it's not the role that you want to do.
Coming into the role that I do, I would say come into it with open eyes because it's a lot of work, it can be really intense, and it's not for the faint-hearted; you've got to be willing to give it all your time, energy and focus and be very diligent with everything because there are quite high stakes in some parts of the deal process.
It's intense, it's challenging sometimes, but ultimately, it's very rewarding as well.
Why do you prefer coming into the office, instead of working from home?
From a working perspective, being in the office I don't think you can beat just being able to walk up to somebody's desk and have a chat.
You never know how somebody that you meet, that you get to know can help you, and you can help them and how ultimately, you can be more productive and learn more and I just don't think you get that working from home.
You're far less likely to ping someone on teams and say oh let's just have a chat, I don't really want to talk about anything but just want to have a chat. But in the office, you're both stood in the kitchen, it just seems a lot more natural.
I feel like there's more support if you come into the office as well, if you are just having a moment where you just need to have a brain break or whatever, it's far better than being at home on your own not really being able to do anything.
Final Thoughts
I love my current role and I wouldn't change or choose to go to another part of the business, I'm very happy where I am. Although it's nice to have the option of internal mobility there if you want it.
It's a very exciting time to be at Advanced as the team that we've got at the minute is going through an expansion phase, so there's more opportunity to progress within the team, and to create more cohesive structure going forward.