We Tried 'Summer Fridays'. Here's How It Went.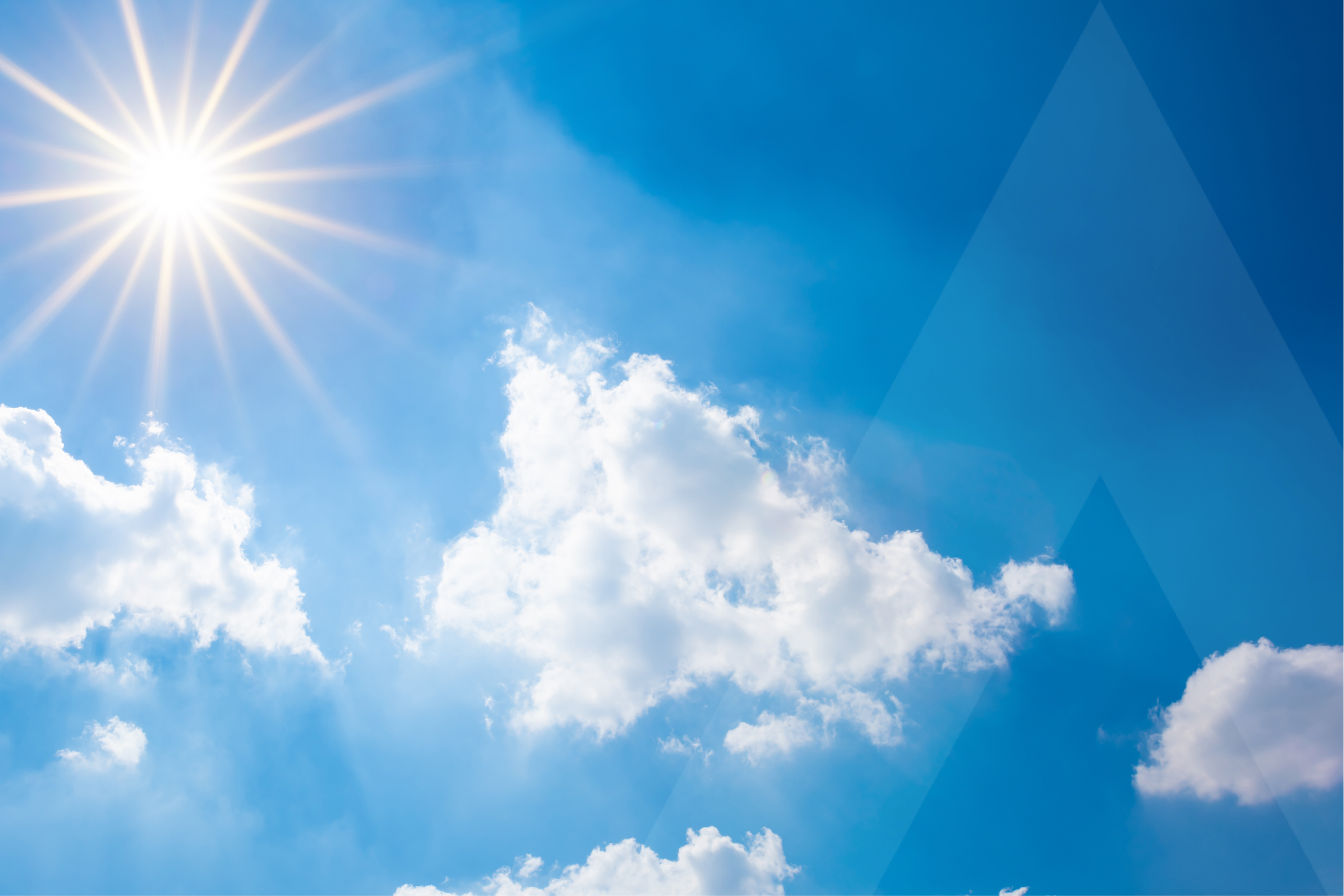 Alex Arundale
---
Joined in: 2016
Job title: Chief People Officer
Throughout July and August, we gave all of our employees the chance to finish work at lunchtime each Friday and to focus on their wellbeing where possible. For customer-facing colleagues, we offered the opportunity to take that time on alternative days in the week.
We wanted to thank everyone who worked incredibly hard over what was a challenging year, and to deliver a clear message to our people that we value their mental health and work / life balance. Here's how it went.
How it worked
2020 was not only an incredibly challenging and difficult year for everyone, it also fundamentally changed the way we work. Remote working and Zoom calls became the norm, and the commute to the office became the commute downstairs (or wherever you called your office). As 2020 became a memory and we entered 2021, we decided to give something back to our people to thank them for their extraordinary efforts in extraordinary circumstances by offering Summer Fridays. We gave our employees the chance to finish work at lunchtime each Friday so they could choose how to spend those hours - whether it was meeting up with friends and family or heading off on a hike. For customer-facing colleagues, we provided the opportunity to take that time on alternative days in the week.
Following Summer Fridays, we asked all of our people for their thoughts on how they felt it went, what worked for them and perhaps what didn't work as well. We had 740 responses to our post-Summer Friday survey, where we asked a range of questions including did they take up the initiative, and what was the impact it had on their productivity and stress levels. Here's what we learned.
What worked about Summer Fridays
"Loved it! I found I was able to get a head start on my weekend and felt the company was showing great appreciation for all the effort and the unwritten extra hours at the desk that I know we all do. Well done - fabulous initiative (my partner also introduced this to his staff!!)"
Did you take your Summer Fridays?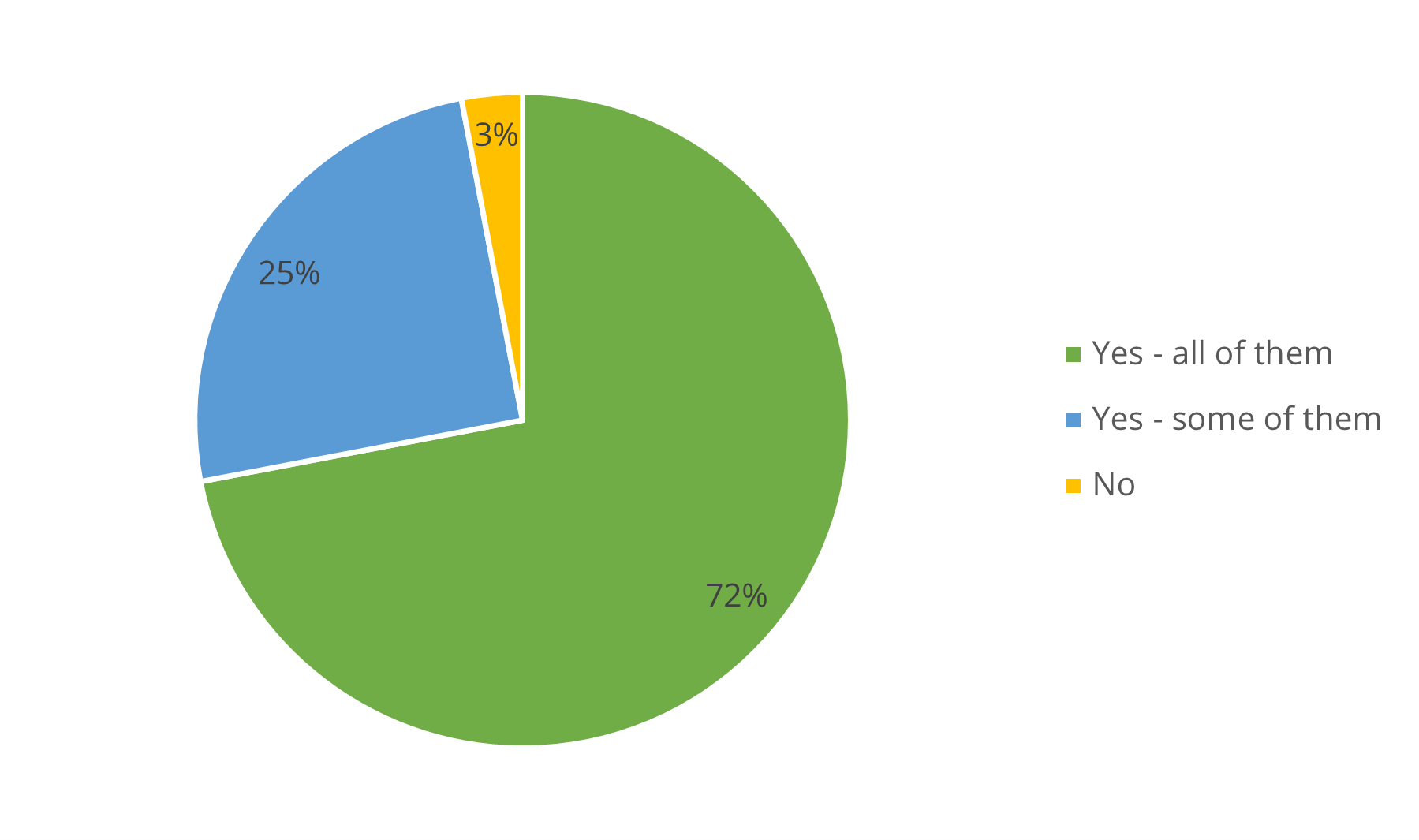 First up - we wanted to know whether our people managed to make the most of the initiative, and if they did, when they were able to use it. 72% of people took all of the Friday afternoons off, with 25% of people taking some of them. This was down to various factors such as pre-existing annual leave they had booked, customer commitments or team commitments. In our Operations Teams, some of our people who weren't able to take their Summer Friday have them planned for later in the year, with 3% saying they were not able to take any.
When did you take your Summer Fridays?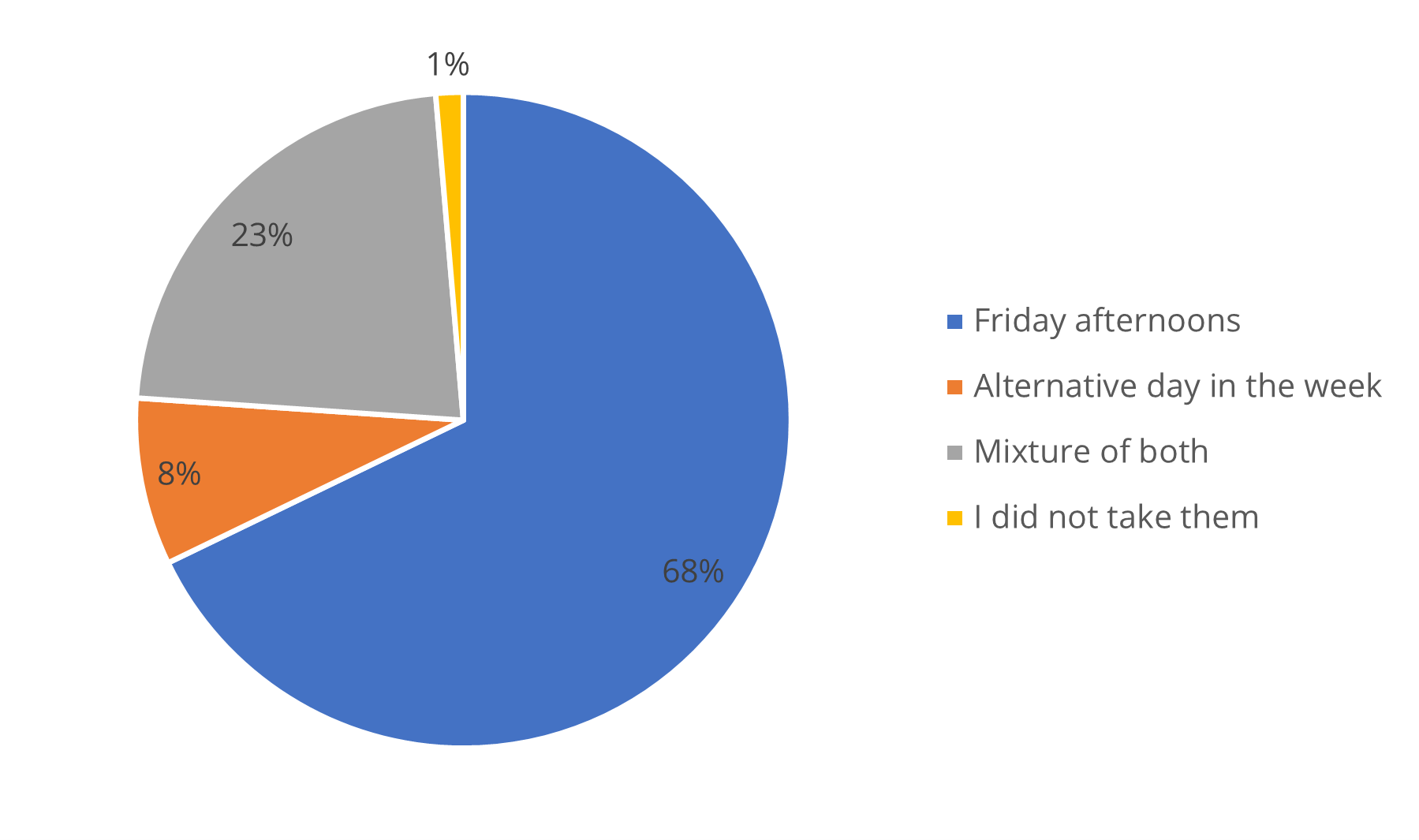 The majority of people took their Summer Friday on the day itself, with 23% of people taking a mixture of the Friday afternoon and alternative days in the week. 8% of people solely took the alternative day in the week, culminating in 98% of respondents taking advantage of the time off at some point over the summer.
Obviously when you are moving to a four-and-a-half-day week for two months of the year, productivity is a concern. Instinctively, you might think that this would have a knock-on impact on output and efficiency within the organisation, but for the most part, there was only good news.
How did your productivity feel during the times you took a half-day on Friday (or alternative day in the week)?
The vast majority (94%) of respondents felt no impact on their productivity and, 41% of people actually felt they got more work done during Summer Fridays. One comment from the survey:
"In the week, knowing I had the Friday afternoon off, I ensured I had planned my work to achieve everything I needed to that week. Morale was high in the team, with a buzz around the team"
This result isn't atypical: studies have shown that 66% of employees that have "summer hours" felt more productive - not less - as a result.
How did your stress level feel during the times you took a half-day on Friday (or alternative day)?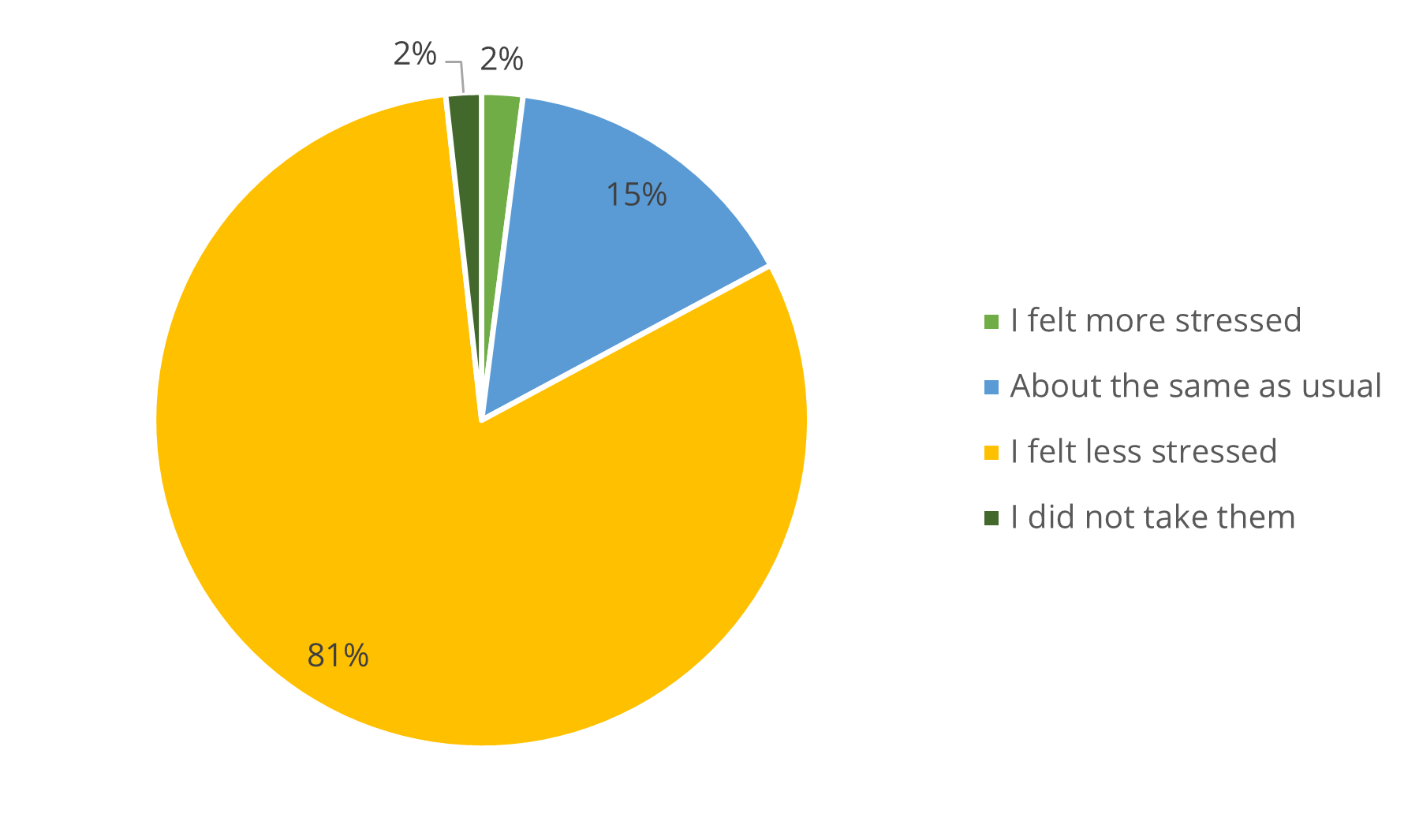 "Summer fridays were fantastic, it not only helped ease stress on the Friday itself but also made the run up to Fridays feel less stressful knowing that the weekend was starting earlier"
One of the key drivers behind us doing Summer Fridays in 2021 was to give something back to our people after an incredibly difficult year. Covid had a huge impact on not only people's physical wellbeing, but also their mental wellbeing. We wanted to provide our people with some extra time to focus on themselves so they could unwind and switch off a little earlier. 81% of respondents to our survey felt less stressed as a result of Summer Fridays.
"I've had a really difficult year due to personal reasons, which has caused a huge decline in my mental health. Summer Fridays really helped with my mental wellbeing, just having that time to take the afternoon off to do something for me"
Another great aspect of Summer Fridays was being able to share what we were getting up to on these days off and learning more about the wonderful activities people had planned. Whether it was helping to volunteer with the vaccination effort, or getting a head start on a long weekend in Scotland!
What didn't work about Summer Fridays?
Although the majority of our teammates felt Summer Fridays were successful and worked well, there were some pitfalls.
A small, but significant, percentage of respondents (3%) found that Summer Fridays caused more stress as it was harder to sync up with colleagues across different time zones. They felt Friday mornings became busier, trying to ensure everyone had finished up by the end of the week. As one teammate said:
"Friday mornings ended up getting very compressed - meetings etc so that people can cover all the things they needed to do before the end of week. Really needs to be a meeting free morning too."
The months of July and August are also prime holiday season, especially when in the previous year there were so many restrictions around travelling. For some of the roles and teams at Advanced where there are customer commitments, having the whole team take the Friday afternoon off wasn't feasible and holiday had already been taken prior to the announcement. Whilst the extra time off was appreciated, it wasn't able to be utilised as it might have been.
"They are awkward to plan when you are a small customer facing team... especially as a lot of holidays had been booked prior to the announcement… however from a wellbeing point of view they were great as the team really enjoyed the extra downtime and as a result where then happier and less stressed during work."
Where we will go from here?
Overall, we learned a lot from Summer Fridays. As an organisation, we have already committed to a Flexible Future - empowering our people, along with their managers, to make the best decision for themselves and the business as to how and where they want to work. For some of us, Summer Fridays was an interesting experiment as to how different working patterns could be incorporated into the week and the potential benefits this could bring:
"Having the Friday free to do things with my family was absolutely fantastic. Going forward, if I had the option to have every Friday afternoon off and make up the 4 hours missed during the week, I'd do that in a heartbeat. It's a small thing but makes such a massive difference."
Finding the right balance between enabling our people to perform to their maximum potential, whilst ensuring a healthy work / life balance and their wellbeing is taken care of, is at the heart of all of our decision making.
And as for whether Summer Fridays will make a return in 2022? Watch this space...