Different Together
---
Dianne King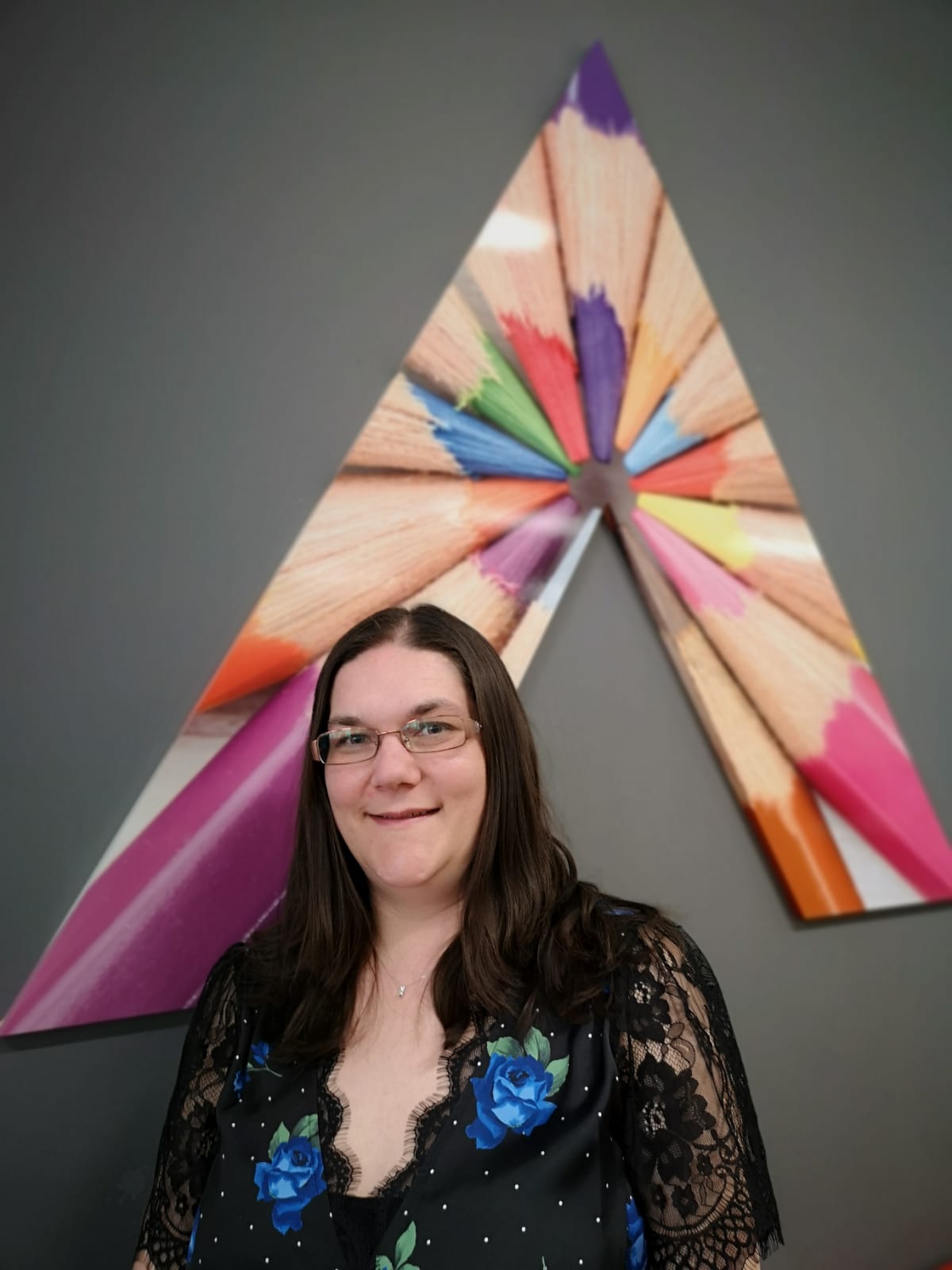 Dianne King
---
Joined in: 2006
Job role: Head of Group Customer Learning
In March 2022: Dianne King will celebrate her 16th year of working for Advanced. During that time, she's worked her way up through a multitude of roles within the business, and now finds herself as the Professional Services Training Lead.
The superlatives she shares as a manager has not gone unnoticed by the rest of the business: being deservedly presented with the Different Together, Advanced values award before the turn of the year.
In this blog she gives us an insight into the level of gratification and fulfillment she receives every day, by leading and being a part of a close-knit, collaborative team who are all working towards the same goals.
What makes a career at Advanced unique?
I think the biggest thing about Advanced is that you can take your career and it's in your own hands to progress.
There are lots of opportunities within Advanced and in my experience of the types of management and leadership I've worked directly with: they are eager to take people's opinions on board and to support any strategies that you can put forward.
I've been working in training now for over 25 years, so I've had a lot of experience in delivering training and the best way of doing it and that information is easy for me to give.
How do you keep on learning and developing in your role?
So, I guess, customer feedback is key in my role. As part of our process within the training centre, we ensure we get customer feedback after every single session that we deliver.
We also request feedback on our e-learning modules as well, so it's a case of continuously looking at feedback and seeing where improvements can be made.
I use LinkedIn quite a bit: I'm a member of quite a few training groups and share quite a few best practices on there.
I also make sure just to keep on top of the latest information that's available.
It's very important to me that we use our customer feedback as our main source of feedback to guarantee that their needs are being met accordingly.
We also try to push the envelope a bit every now and then as well. We'd already started the e-learning transition before the lockdown and covid.
Then, suddenly, that took off because our customers were looking for alternative ways of upskilling and training into our products - so the fact that we'd already started that journey put us in a very good position.
We'd also already started along the journey of doing some remote virtual classroom sessions before the pandemic, as they weren't as popular as we'd hoped originally, but now it's our go-to training delivery method, and that's what our customers want.
So, it was great to get ahead of the curve and have that ready to go straight away. So, it was very fortunate really that we'd already started down that journey.
What's the best career advice you've ever received?
On occasion you just have to go with your gut or 'be fearless' I guess and just make a decision.
Then if it doesn't quite go well make sure you can recover from it afterward and make sure that everything is put into place to make sure the customer gets the absolute best possible outcome.
What do you find most rewarding about your role?
I think the most rewarding part about that is to see the team grow and to see individuals grow in their careers as well and be able to offer that mentoring and support.
Also, taking their opinions and their suggestions on board as well to make sure that we've got a completely rounded offering for all of our customers so it's pivotal I think, and an enjoyable part of my role is to see others thrive in what they're doing.
What's the most challenging part of your role?
The most challenging part is when you first go into a new role you kind of feel out of your depth: you're out of your comfort zone to a certain extent because you don't necessarily know the people that you're working with that well.
So that can be a challenge, but I guess the best thing to do with that is to just be yourself and to ask questions; there's nothing wrong with asking questions and gaining new knowledge as you go.
It is a challenge but one that I think you can overcome.
How would you describe the culture at Advanced?
In terms of company culture and certainly, our own team culture, although we don't work directly in an office, we do have regular meetings and regular catchups.
Unfortunately, at the moment, they are virtual but we're all really looking forward to getting together in March, for a big team meeting.
This will allow us to all get around the whiteboard and to put down some ideas and suggestions.
It's very beneficial to have a more collaborative approach, which is the fantastic thing certainly about my team: that we all work together towards our common goals, and everyone's invested in what we're trying to do.
I think that's absolutely fantastic; I've been in other roles and other companies, where it's quite difficult sometimes to get everyone to all work towards the one goal.
How do you keep your team engaged remotely?
We have a weekly meeting with the team, and in every session, we have an icebreaker activity at the beginning of the meeting.
Everyone takes it, in turn, to do some kind of activity to get the meeting started: and through that, we're getting to know each other more personally as well.
It's really good to have the kind of camaraderie as part of a team; even though we are remote we still have that team feel to all of our meetings.
---
Most Caring, Understanding and Listening Manager
How would you describe your management style?
First and foremost, I'd never ask any of my team to do anything I wouldn't be prepared to do myself.
I also pride myself in having a collaborative approach: being the leader of a team, taking their ideas on board, and allowing them to assist in the planning and the execution of everything that we do.
What's the best part about being a manager?
The best part about managing people is to see them grow in their careers 100%.
It is to help them, to mentor them, to coach them through their path in Advanced so that they are ready to take that next step and go for that next role that they might be interested in.
How do you keep your team motivated?
A lot of the motivation from our team comes from positive feedback: congratulating them when they've done a good job. But also, through constructive feedback as well – maybe just letting them know that if they tried to tweak something slightly; they may get a better result next time.
So, it is about giving that feedback, but also being open to receiving feedback from the team as well: allowing them to have a voice, to have their say, and also encouraging them to collaborate with each other; collaborate with the management team and to work towards our goals together so it's not a dictatorship, we are working together as a team.
And I think that's certainly a big motivator for them.
What inspired you to get into management?
It is being able to help people; I get that buzz from seeing something click in our customers: similarly, I get that buzz when I see someone doing a really good job and the fact that I've enabled them to do that.
It's really rewarding to see your team grow and to get feedback from other areas of the business as well that they're doing a fantastic job, that's very inspiring, and it gives you great confidence that you're doing a great job.
How do you ensure that everyone in your team feels well supported?
I guess it's because we've got an open-door policy: in terms of they know that if they need support, all they need to do is ask. We also have regular check-ins; everyone has their 1 to 1 meetings.
In our weekly meetings, we have a round-robin, where we invite everyone to know what's gone well in the week but also let us know if there have been any challenges or something that they didn't quite enjoy.
So, it is just inviting that dialogue at every opportunity.
How do you keep your teams energised, and how has this changed because of the pandemic?
My management style has had to adapt throughout the pandemic, especially in lockdown.
I think it was just having that awareness of the fact that some of the team live on their own, or have very limited interactions with others, so we made sure that we had longer regular meetings.
In lockdown, we started a session every Friday afternoon, where we would just get together and play games or we'd do quizzes or whatever it might be.
We did bingo, we've done family fortunes, we've done catchphrase – all sorts of things just to kind of keep that interaction going.
And I know for some people in the team it was kind of the highlight of their week to be able to come together and just have that team feeling again: to get together and have a bit of fun.
So yeah, we did have to change things up a little bit - but we've still got that element of fun that we start our sessions with before we get into the nitty-gritty of the meeting.