Five Roles in 5 Years
---
Christina Athanasiou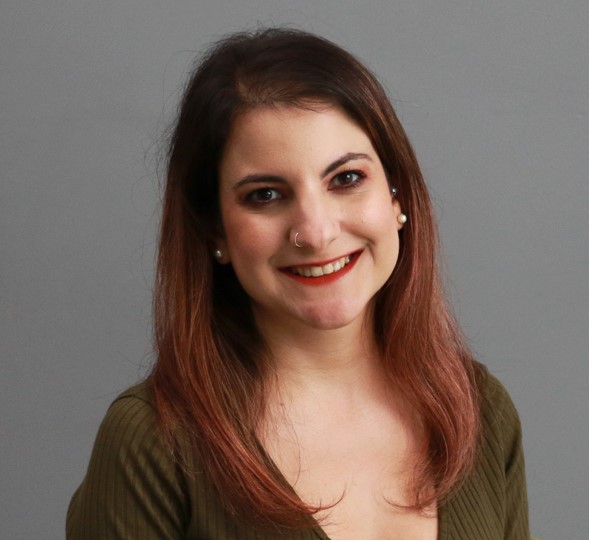 Christina Athanasiou
---
Joined in: July 2016
Job title: Sales Operations Project Manager
After completing an undergraduate and postgrad degree in marketing, an area that she felt a strong passion and interest in, Christina Athanasiou found that it didn't seem to suit her needs and working style when she stepped into the realm of marketing as a Social Media Administrator.
When she stumbled across a position at Advanced; a company with huge growth potential, placing huge importance on personal development - and was conveniently located right around the corner from where she lived - she found that her true passion lay in project management.
Since becoming a part of the Advanced family she's gone on to earn herself five promotions in 5 years with the business. Read this blog to learn how Christina took control of her career, progressing from a Sales Operations Executive to Sales Operations Project Manager.
Finding success in Sales Operations
I guess my story with Advanced begins when I was just a first few months into my initial role as a Sales Operations Executive. When I started to find my feet in the role, I found myself constantly asking management for more things to do after I'd got through my workload.
Taking on these additional tasks meant that my manager began to realise that throwing myself into projects was a part of the job which I enjoyed thoroughly and wanted to experience more of. Hence why a new role was created for me by the Director of Sales Enablement a few months later as a Business Analyst.
Looking back that's something that I've really appreciated, it embodies everything that Advanced is all about; the fact that they identified my strengths and allowed me to follow my passion in a role that was created for me, that I was then able to go and shape myself.
At Advanced it's very important to make the most of the opportunities that are available to you. Therefore, when an opportunity presented itself to step into management a year later - I made sure to grab it with both hands.
Becoming a manager was something that I did struggle to come to terms with initially as I'd never thought of stepping into a managerial role before; but fortunately, I was provided with all the training and support that I needed to start excelling within a leadership capacity. What made it even more special was the fact that I was able to recruit my own team from scratch; being given the opportunity to inherit a couple of my previous team members.
However, two months ago, an opportunity presented itself to step back into project management - an area which has remained a strong passion of mine during my time with the business. It's a truly amazing feeling to be given the chance to go back to what I've always loved doing: getting stuck into projects, mergers, and acquisitions – so I'm very excited to get back to what I do best.
Company culture
The word I would use to describe the culture at Advanced is unique. When I compare Advanced to the other places I've worked; the difference is so noticeable. It does help that in our Mailbox office (Birmingham), everyone that you meet is super-friendly, helpful, and approachable. It makes a real a difference, especially if you're new to the business.
What sets Advanced apart from other businesses is that, as an employee; your voice will be heard and will feel like it matters, and if you have a good idea, it will be listened to. I think that's been one of the main reasons why I've been successful during my time here. I am quite a vocal person, so I do have the courage to voice my ideas and that's something that I would always urge people to try and do.
I would never have become the co-founder and co-chair of the Advanced Women's Network (one of our diversity & inclusion networks) if I didn't pluck up the courage to make sure that my ideas were heard and listened to.
Internal mobility
I think that we absolutely practice what we preach when it comes to internal mobility at Advanced. It's one of the first things that you hear when you join the company. When you apply, it just gets kind of drilled into your head that internal mobility is something that we do and encourage.
I've seen so many examples of that during my time with the business. It's been great to see some people from my team progress not only within our department, but who've gone on to succeed in other parts of the organisation due to the career path that has been carved out for them.
Here at Advanced, your managers won't ever stop you from trying to progress down another career path. Instead, they'll help you to develop even further and will work with you to make sure that you're equipped with the appropriate skills and training to go on and succeed in your new role. We'd much rather see our talent take advantage of the 65% Internal Mobility, rather than be lost outside of the business.
Future aspirations
For sure I think that there's a path for me and a place for me within Advanced to keep progressing and developing. I'm sure there will be plenty more exciting projects in the future that I'll want to be a part of. But ultimately, my main goal is to become somebody who is an asset to the business.
One of the main reasons why I love working for Advanced, and why I've stayed here for over 5 years is that we just keep it interesting; the possibilities here are endless; so, I can't wait to sink my teeth into whatever the future holds.